NI ELVIS
(updated: 03/31/2008)
Five sets of
NI Educational Laboratory Virtual Instrumentation Suite (ELVIS™)
were used to let students be familiar with data acquisition and circuit design in practice. To meet the requirements, we purchase a higher price bundle (NI ELVIS/USB-6251 Multisim Circuit Design Bundle) with the following items:
Hardware



NI ELVIS benchtop workstation
NI ELVIS prototyping board
NI USB M series with mass termination device
NI USB M series device power cord
USB cable
68-pin E/M series cable
NI ELVIS AC-DC power supply




Software



NI LabVIEW™ 8.20

→

8.5

→

8.5.1

→

8.6
NI ELVIS™ 3.0.1

→

3.0.2
NI Multisim™ 10.0
NI ELVIS II+
(updated: 07/21/2012)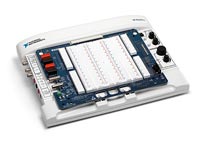 For providing a better learning environment to students, five sets of NI ELVIS II+ were installed in Learning Facilities of SPL.
NI ELVIS II workstation with 100 MS/s oscilloscope option
USB cable
NI ELVIS III
(updated: 03/31/2020)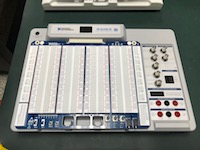 Ten sets of NI ELVIS III were procured for electronic shop of Department of Space Science and Engineering, NCU.