Circuit board plotters
電路板雕刻機
(updated: 01/17/2020)
Two PCB plotters are available in SPL: LPKF ProtoMat S104 RF PCB plotter and LPKF ProtoMat S62 PCB plotter.
LPKF ProtoMat S104
微波電路板雕刻機
The ProtoMat S104 works particularly fast and precisely with a speed of 100000 RPM, high positioning speed and high mechanical resolution. In combination with the machine's stable granite base, this ensures optimum accuracy for drilling and milling of even very fine structures. The high-frequency milling spindle and the milling depth sensor are self-cleaning and therefore low-maintenance.
The easy-to-use package makes things easy for users of the ProtoMat S104. Sensor-controlled, the material and copper thickness are measured automatically and enable the exact calculation of the required milling depth. The machine, which is well equipped with 20 tool positions, automatically changes the corresponding tools during the production process. Depending on the intrusion depth, the conical milling cutters generate different insulation channels. The automatic milling width adjustment also ensures that the milling contour has a constant and correct width. If required, the integrated dispenser can then apply solder paste to solder pads fully automatically. An additional data calculation is not necessary. The short set-up time and the operator-free machining enable the user to achieve short process times.
With its Z-axis drive, the ProtoMat S104 is ideal for machining front panels and enclosures – or for depth milling in printed circuit boards. It is also easy to machine assembled PCBs and to produce plastic mounts.
The system software in the ProtoMat S104 is highly flexible and easy to operate. The software is designed in order to meet the particularly high requirements of RF applications. A parameter library for different materials supports user-friendly operation.
LPKF ProtoMat S62
電路板雕刻機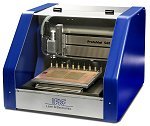 The LPKF ProtoMat S62 introduces a new era of state-of-the-art circuit board plotters for in-house rapid PCB prototyping. This compact high-speed system provides superior performance for quickly and easily manufacturing circuit board prototypes in a single day. It is an advanced and very affordable PCB plotter that includes features usually found only on much more expensive systems.
The LPKF ProtoMat S62 delivers unmatched precision with system resolution as fine as 0.25 µm (0.01 mils). As a result, the plotter can mill and drill PCBs with extremely fine traces, including RF and microwave boards. Its milling head travel speed of 150 mm (6") per second and high-performance 62,000 RPM spindle motor makes it a premiere high-speed performer for producing quality PCBs in-house. Its motorized Z-axis drive also makes it an ideal tool for machining instrument front panels and housings, and for reworking and depanelizing bare and populated boards.
Whether the project is a two-sided board or a multilayer board, or it involves machining three-dimensional objects like front panels, the S-Series plotters are indispensable prototyping tools that deliver a finished product of the highest quality.
Setup and operation of the S-Series plotters is intuitive and easy to learn, thanks to their advanced and convenient design, comprehensive documentation and intelligent board production CAM software.
| | |
| --- | --- |
| Minimum track width | 0.1 mm (4 mils) |
| Minimum isolation width | 0.1 mm (4 mils) |
| Minimum drill hole diameter | 0.15 mm (6 mils) |
| Working area (X/Y/Z) | 229 mm x 305 mm x 38 mm (9" x 12" x 1.5") |
| Resolution (X/Y) | 0.25 μm (0.01 mil) |
| Resolution (Z) | 0.5 μm (0.02 mil) |
| Milling motor rpm | 62,000 rpm |
| Tool change | automatic, 10 positions |
| Tool collet | 1/8" |
| Drilling speed | 150 holes per minute |
| Travel speed (max) | 150 mm per second (6" per second) |
| X/Y positioning system | 3-phase stepper motors |
| Z drive | stepper motor |
| Dimensions (W/H/D) | 650 mm x 510 mm x 800 mm (25.6" x 21" x 31.5") |
| Weight | 55 kg (121 lb) |
| Power supply | 120/240 V, 50-60 Hz/200 VA |
| Hardware and software specifications | Microsoft® Windows® 2000/XP, 700 MHz processor or higher, min. 256 MB RAM (512 MB recommended), screen resolution min. 1024 x 768 pixels, USB 2.0 |
Accessories
(updated: 11/24/2008)
CircuitView
重複定位攝影裝置
: The LPKF CircuitView camera system enables the visual positioning of the circuit board plotter cutting head. This system is particularly suitable for the rework of printed circuit boards, coding and teach in functions. The set contains a black-and-white video camera and various attachments. It is available for all LPKF circuit board plotters.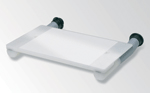 Vacuum tabletop
真空吸附平台
: This option holds the workpiece tightly against the work surface, eliminating any substrate irregularities such as twisting or warpage. The tabletop also prevents the board from slipping after it has been flipped for multi-sided milling or drilling.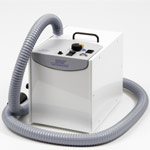 Dust extraction
吸塵器
: The LPKF dust extraction system, complete with a HEPA absolute filter, keeps the work area clean and free of debris of all sizes, from drill shavings to microscopic dust. The milling depth limiter, a precise tool, requires a dust-free surface against which to operate. The integrated AutoSwitch ensures that the dust extraction system is switched on and off automatically. This guarantees safety, increases the lifetime of the dust extraction system and reduces noise when the machine is not running. One set of vacuum cleaner bags, HEPA filter, and carbon brush was purchased.
| | |
| --- | --- |
| Vacuum pressure | Max. 22,500 Pascal |
| Air flow rate | 241 m3/hr (0.140 cfm) |
| Power consumption | 800 W (230 V) or 960 W (120 V) |
| Dimensions (W/H/D) | 250 x 300 x 350 mm (10" x 12 " x 14") |
| Acoustic pressure | 50 dB(A) |
| Absolute filter | HEPA filter |
| Remote control | Controlled by software LPKF BoardMaster |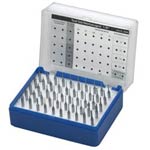 Starter sets: For use with LPKF ProtoMat S62 and vacuum table.
2 x sinter backing plate white 315 x 239 x 5 mm
10 x base plate FR4, 229 x 305 mm, 0/35 μm (predrilled)
5 x base plate FR4, 229 x 305 mm, 35/35 μm (predrilled)
5 x base plate FR4, 229 x 305 mm, 18/18 μm (predrilled)
5 x fine line miling with distance ring 1/8", 36 mm, d=0.1~0.15 mm
5 x end mill (RF) with distantce ring 1/8", 36 mm, d=0.25 mm
1 x special tape
3 x PCB cleaner
1 x tool set 1/8" shaft with distance rings
Measuring microscope
手持式刻度顯微鏡
: The LPKF measuring microscope is the ideal tool for calibrating ProtoMat isolation depths, with a built-in light, 60x magnification, and a precision metric scale.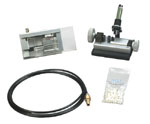 Precision ring setter
精密刀具深度套環定位器
: Use the LPKF ringsetter for autochange ProtoMat models to allow different tool use without readjusting the milling depth. Contains adjustment unit and measuring microscope. The LPKF Ringset contains: Spacer ring press and adjustment unit with measuring microscope. It enables the exact adjustment of the spacer rings and makes the use of different tools, when machining, possible without adjustment.