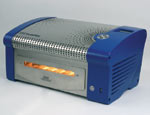 Lead-free reflow oven
回流焊接爐
(updated: 12/29/2008)
The LPKF ProtoFlow oven, with lead free capability, has significant advantages over previous models and rich features including a PC control software package. Several user programmable zones between preheating and final reflow enable the LPKF ProtoFlow to process all reflow profiles up to 320
o
C.
The reflow process can also be observed through a large glass window assisting the operator to optimize the process parameters. Ideal for prototyping, technology research and pre-production runs the LPKF ProtoFlow is a high tech, user friendly, reflow oven with many pre-programmed process profiles which can be easily selected via the LCD display and keypad.
The intuitive software package enabling process parameters to be conveniently changed, managed and archived on a PC, completes the user friendly control features of this sophisticated desktop reflow oven.
Maximum circuit board size
230 x 305 mm (9" x 12")
Maximum preheating temperature, time
220 ℃, 999s
Maximum reflow temperature, time
320 ℃, 600s
Long thermal treatment temperature, time
220 ℃, 64h
Temperature stabilization time
< 5 min
PCB cooling
Double, speed adjustable bottom-mounted fans
Power connection
Single phase 220-240V/50-60Hz, 16A
Maximum power consumption
3200 W
Dimension (W x L x H)
647 x 450 x 315 mm
Weight
22 kg
PC requirements
Windows 2000 or higher, Microsoft Office, USB 1.1 or 2.0
Ambient conditions
Indoor use only!
Temperature: 15-30 ℃
Relative humidity: 30-80%
Attitude up to 1000 m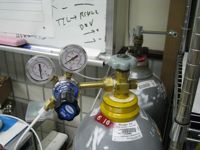 LPKF ProtoFlow N2 with inert gas option
An external connection with digital flow meter for inert gas is available for the LPKF ProtoFlow N2. The nitrogen atmosphere significantly reduces the oxidation during the soldering process, and ensures better solder joint results.
Profile recorder

The LPKF ProtoFlow and ProtoFlow N2 can be fitted with a Profile recorder module for measuring temperatures of particular areas or components on the PCB by using four thermocouple probes. The temperature profile is displayed in real time on the PC.