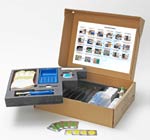 Solder-resist mask and legend printing
防焊綠漆
(updated: 05/22/2009)
Circuit boards lacked with the professional finish of a green solder mask is today, with SMT components, essential for soldering safely.
With
LPKF ProMask
a professional solder resist mask will be applied to the already milled prototype circuit board. LPKF ProMask gives prototype PCB's the professional finish they deserve and enables the soldering of SMD or conventional components with no fear of short circuits.
LPKF ProLegend
for professional screen printing is a simple-to-use method of adding legend printing, logos, and circuit legends to any prototype PCB.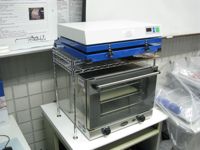 It is a quick and easy process even for people with no prior experience. All the components required for the LPKF ProMask and LPKF ProLegend system come in pre-weighed sachets for simple mixing in the correct proportions. After development is complete all residues can be disposed environmentally friendly.
The system comes with all the necessary tools and a large package of consumables. One additional consumable set was purchased.
| | |
| --- | --- |
| Amount | Description |
| 20 | Solder resist |
| 1 | Developer dish |
| 1 | 5 cm roller with pan |
| 20 | Laser printed foil DIN A4 |
| 10 | LPKF developer |
| 10 | LPKF conditioner |
| 1 | Cleaner |
| 1 | PCB cleaner |
| 10 | Foam roller |
| | Various accessories |
Max. base material dimensions
229 mm x 305 mm (9" x 12")
Max. working area of image exposer
240 mm x 340 mm (9,5" x 13")
Base material types
FR4, FR3, RO3000®, RO4000®, TMM®
Processing time
Approx. 60 min
PAD separation
≥0.5 mm (20 mil) fine pitch
Adhesion strength
Class H and T, testing method: IPC-SM-840 C, Subsection 3.5.2.1
Solder bath resistance
20 sec at 265 °C (509 °F), testing method: IPC-SM-840 C, Subsection 3.7.2
10 sec at 288 °C (550 °F), testing method: MIL-P 55 110 D
20 sec at 288 °C (550 °F), testing method: UL 94 (lead-free)
Surface resistance
20 kOhm, testing method: VDE 0303, Section 30, DIN IEC 93
Moisture resistance an isulation resistance
Class H and T, testing method: IPC-SM-840 C, Subsection 3.9.1
Solvent/Cleaning agent stability
IPC-SM-840 C (10% caustic cleaner, isopropyl alcohol, monoethanolamine)
Minimum capital height
2.0 mm (with 1,200 dpi laser printer)
Minimum capital strength
0.1 mm (with 1,200 dpi laser printer)
Hardware requirements
600 (or higher) dpi laser printer
Software requirements
CircuitCAM 5.1 or higher


Accessories
(updated: 06/21/2008)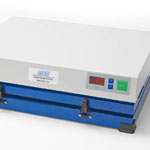 UV-Exposer
曝光機
: With use of the artwork the pattern is transferred to the surface of the circuit board within 30 seconds.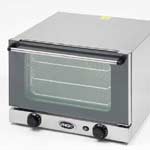 Hot air oven
熱風爐
: A hot-air oven for pre-drying the PCB and hardening the resist for 30 minutes. The hot-air oven offers optimal conditions with integrated time switch clock and precise temperature regulator for hardening paste plated-through holes and for laminating soldering mask foils.