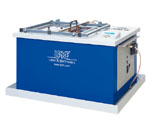 Through-hole plating
貫孔電鍍機
(updated: 07/05/2016)
LPKF provides a wide variety of through-hole plating solutions, such as mechanical through-hole plating of simple boards, semiautomatic dispensing of conductive paste for double-sided printed circuit boards, and galvanic through-hole plating of complex printed circuit boards.
Electroplating: LPKF Contac RS and MiniContac RS electroplating system for creating multilayer printed circuit boards.
Chemical-free: LPKF ProConduct conductivity solution without chemicals. Simple-to-use and perfect for small fabrication runs.
Manual: LPKF EasyContac provides manual through-hole conductivity for double-sided circuit boards.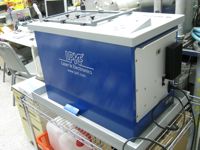 Electroplating
電鍍機
The LPKF MiniContac RS is a through-hole plating system specially developed for the professional production of prototype and small batch production printed circuit boards. The system is ideal for any rapid PCB prototyping situation, especially small runs and tight work locations. No analysis or special chemical knowledge are needed.
The system uses switchable reverse pulse plating, producing more uniform copper plating for difficult aspect ratios and smaller holes.
The LPKF MiniContac RS handles circuit boards as large as 230 x 330 mm (9.0" x 13.0"). The system is completely closed and needs no external connection.
Maximum size of base material
230 x 330 mm
Maximum size of circuit board
200 x 260 mm
Power supply
230 V +15/-30 % at 50-60 Hz
115 V +15/-30 % at 50-60 Hz, 400 VA
Dimensions (W x L x H)
750 x 500 x 525 mm
Weight
47 kg (tank empty)
Ambient temperature
15 - 25 oC
Chemicals

2 sets of 6L cleaner 110, 5L cleaner 210, 4L activator 310, 16L copper plater 400, and 0.25L shine 400
ViaCleaner

The ViaCleaner is an expansion or a module for existing LPKF Contac and MiniContac galvanic systems and can be seamlessly connected to them. The circuit board is simply immersed in the ViaCleaner bath and moved around in it.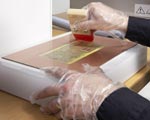 Chemical-free
物理貫孔包
The LPKF ProConduct® introduces revolutionary technology to produce plated through-holes, which does not require a plating tank or potentially hazardous processing chemicals. This compact system is extremely fast and easy to use. Its rapid parallel processing method delivers completely safe, reliable and thermally stable via plating results for double-sided or multilayer boards.
Circuit board prototypes can be easily fabricated in-house in a single day when the LPKF ProConduct® system is combined with an LPKF ProtoMat circuit board plotter.
In-house PCB prototyping gets your designs to market faster by eliminating production delays and high costs that can occur with outside vendors. It also makes your precious design data secure by keeping it under your control.
LPKF ProConduct® uses specially-developed plating technology to rapidly plate vias as small as 0.4 mm (15 mil) up to aspect ratio of 1:4. Even smaller holes are possible under special conditions. The entire process can be completed in just a few minutes for double-sided and even multilayer boards. The electrical resistance of LPKF ProConduct® plating is extremely low with 19.2 mOhm depending on the material thickness.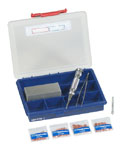 Manual
LPKF EasyContac is a simple and easy to operate system for circuit board through-hole plating. Minor production effort and low costs are the major benefits of this manual solution.
LPKF EasyContac is particularly suitable where two-sided soldering is not possible, such as beneath components. The EasyContac set contains all of the necessary tools and materials, with the exception of a soldering iron.