Compact Ionosphere Probe
小型電離層探測儀
(updated: 03/28/2019)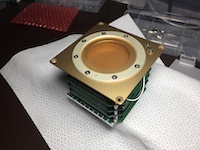 Graduate Institute of Space Science, National Central University (NCU) and Laboratory for Atmospheric and Space Physics, University of Colorado Boulder have chosen Compact Ionosphere Probe (CIP) developed by Space Payload Laboratory as a science payload in the 1st International Satellite Program in Research and Education (INSPIRE) Workshop held at NCU in 2016. The CIP, a successor of Advanced Ionospheric Probe, can measure ionospheric ion concentrations, velocities, and temperatures to explore terrestrial ionosphere. Currently NCU has completed CIP preliminary design and is on-going for its prototype and critical design to meet all requirements before the middle of 2017. A flight model of the CIP shall be completed at the end of 2017. After substantial functional and space environmental tests, the model will be delivered to the INSPIRESat team for satellite integration at the middle of 2018. Possible specifications are listed as below:
Mass: < 1 kg.
Dimension: 1U.
Power: +12VDC and < 5W.
Communication interface: LVTTL UART and RS-422 compatible, 115,200 bps.
Connector: 9-pin D-sub female.
FOV: 90° x 90° without obstacles.